Flowers Growing Out Of My Chest
2021, drawing, ceramic object, installation, text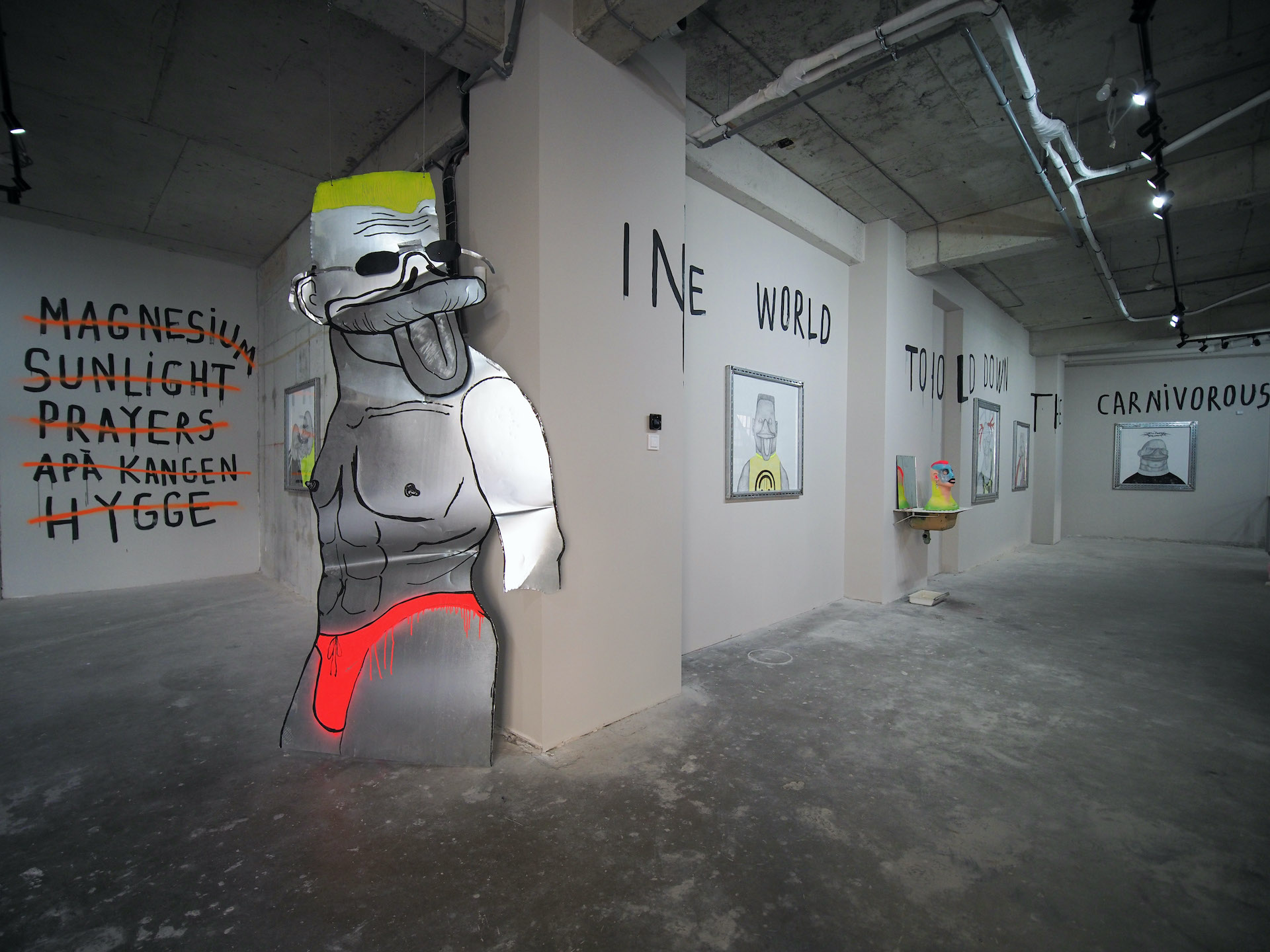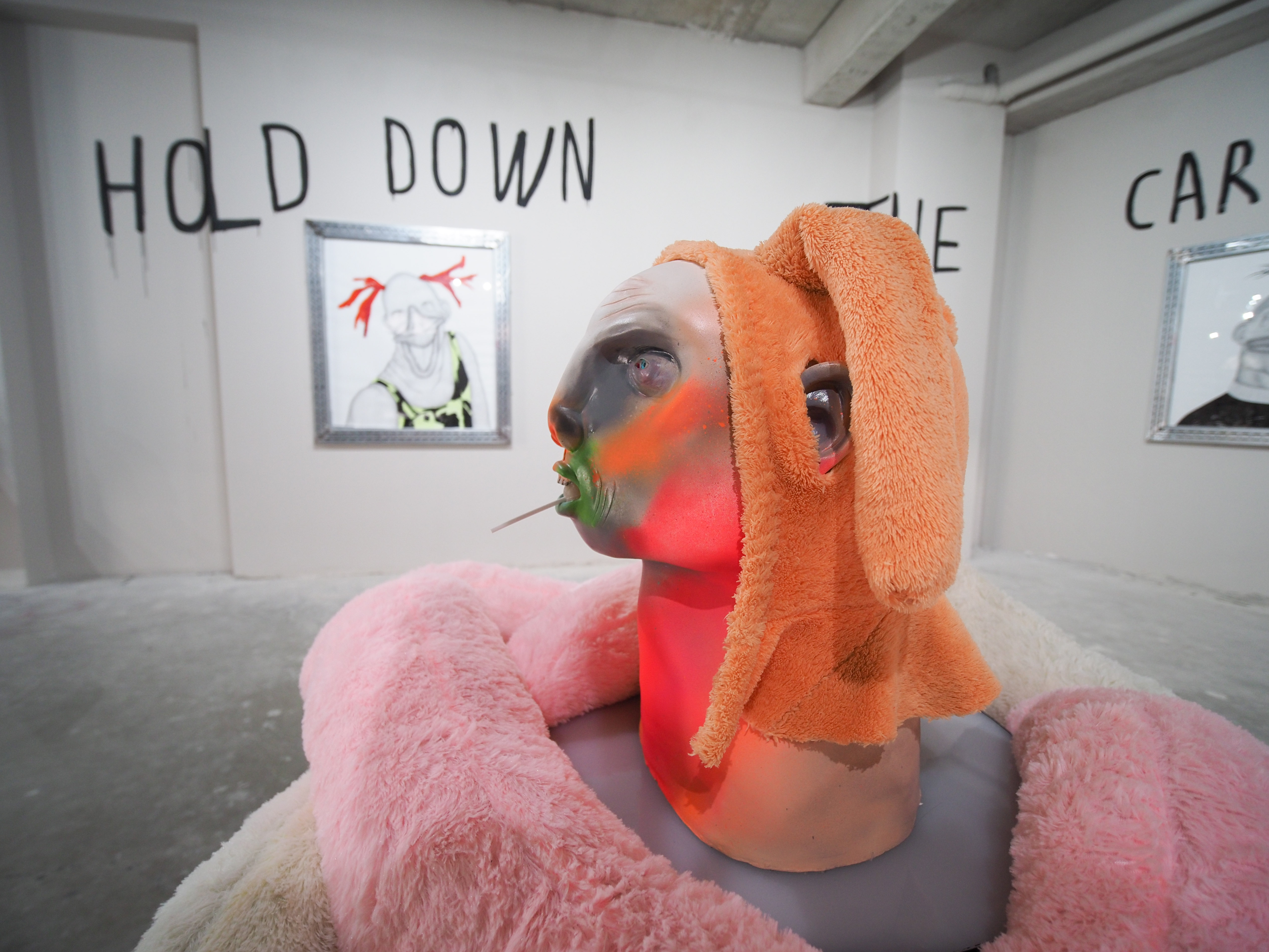 Flowers Growing Out Of My Chest

26 Nov 2021 - 29 Jan 2022
Mobius Gallery, Bucharest

Curator: Stefania Dobrescu


The exhibition showcases a series of new works through which the artist explores the dynamism of music on the relationship between mind and body, trying to define how individuals shift from a solitary condition into an unguided daze that metamorphoses oneself toward beings influenced by rhythm and sound. This energy is transmitted through an unseen sound passage that veils all the social discrepancies and allows individuals to connect and share the same vibration. Lea Rasovszky's works celebrate the misfits, unglamorous people that do not align with the expected criteria, but face it with boldness, simply because the liberty of being yourself right in the middle of others is just too good to let it go.

There are a few ways to describe the instant primal attachment that we can have with music. It moves and comforts us most wonderfully and purely. Flowers Growing Out of My Chest is a kingdom that sustains itself by developing people's connection to one sound-euphoria ecosystem, a place that urges you to feel that moment when energy is oozing out from your entire body. Sooner or later, before you know it, flowers are growing out of your chest, heart and proximity, in this place that allows a universal language and no effort to use it, because without a word everyone is experiencing the same unifying feeling - the comfort of displaying who they really are or who they could be. It takes fierce will to let yourself be, and the taste of that is an explosion of colours, nuclear blue is coming out of your ears, your skin is turning bright pink, lavish green, pandemonium yellow, light is flashing through your eyes, and everything is taking the shape it should have been from the beginning.

In the middle of this burst of colours, as all things are coming in synchrony with the rhythm, and as the windows can't hold in the disco lights, muffling the sound, there is a message of comfort. Here we can finally come at ease with the duality that makes us both kind and harsh, affectionate and uncaring, composed and scattered, in its all significance and insignificance. Lea's humanoid figures, both on paper and ceramics, lay at the border of what we can and could see. They are the ones already enjoying the music, the ones that let the sound cover any doubt coming from within, yet they never changed - just become who they were from the start. They have no real or false self and no contradictions to wrestle with, the kind-of primordial and raw state allows them to explore a pathway of connecting to others, a need that can be forgotten or ignored but never replicated. You can look at them from a corner, through a strict dogmatic judgement or just with amusement, but there is no price high enough to be paid for the liberty of owning yourself. You may as well join the party and embrace the joy and hardship of self-discovery.

BRUIAJ
2020, installation, drawing, object, text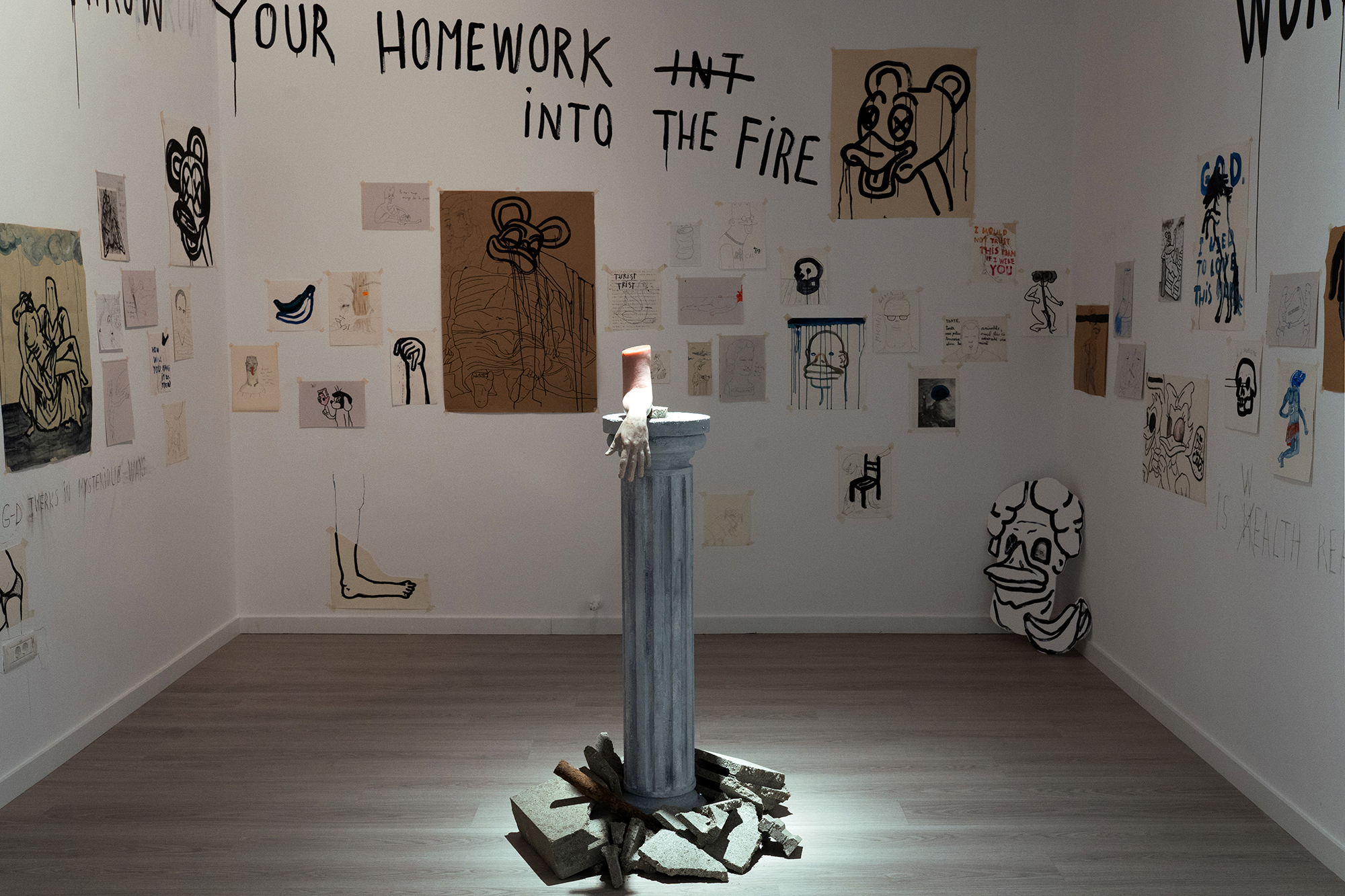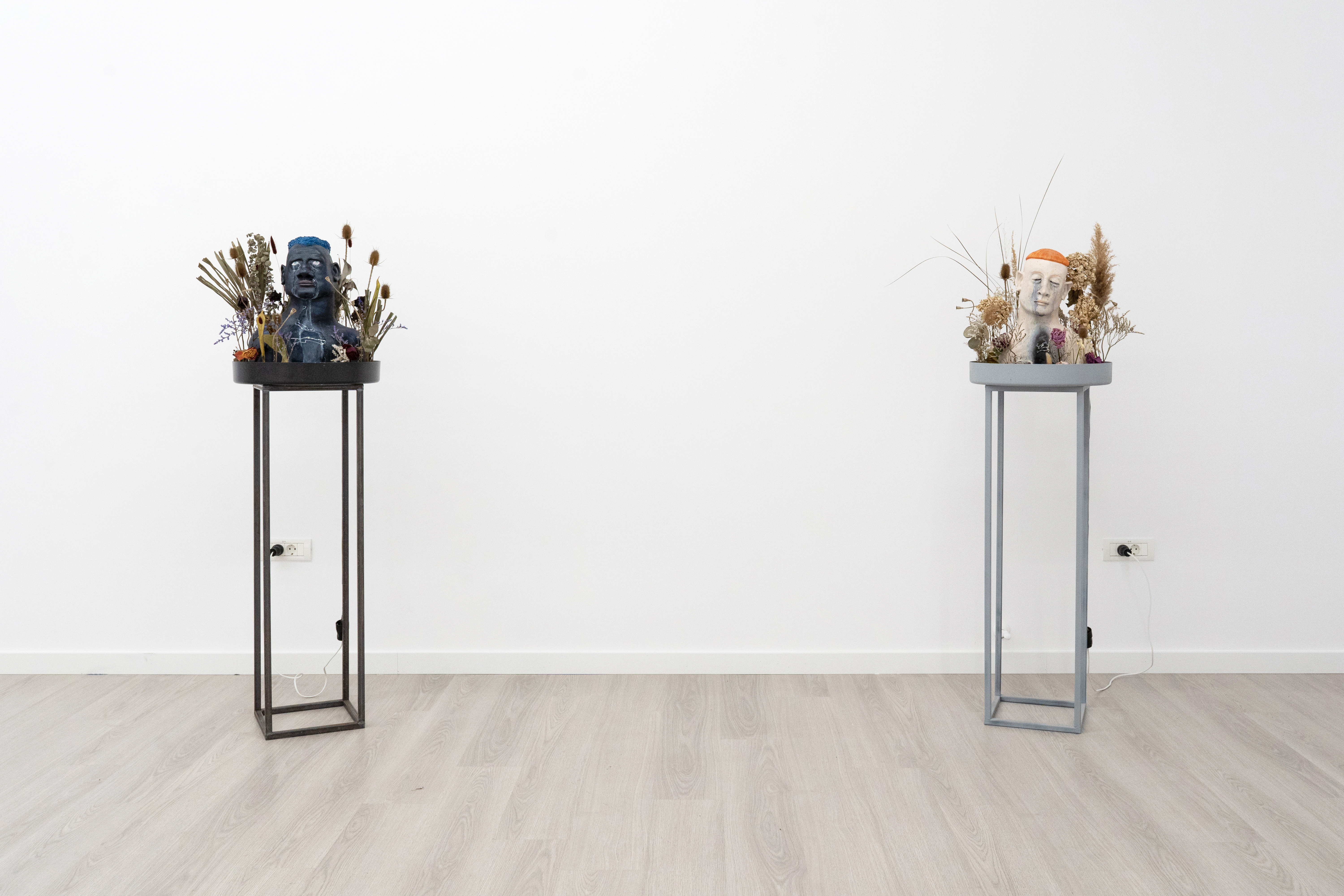 BRUIAJ
Michele Bressan, *Lea Rasovszky, Larisa Sitar

Curator: Diana Marincu

The exhibition BRUIAJ, the third episode in the series of collaborations between the artists Michele Bressan, Lea Rasovsky, and Larisa Sitar, bears witness to a generation solidarity that sets the frame for a dialogue developed naturally, spanning a long period of time.

BRUIAJ focuses on exploring the topography of memory unfolding raw images, atavistic and enigmatic visions of personal and collective histories, never processed till their deepest layer. Residues lurking in these folds disturb even the clearest of the stories. This disturbance forces the path of visual experience to multiple detours, diversions and surprises stemming from themes such as the aesthetics of the private space, the everyday eeriness, funeral rites, military arsenal, ruin, and disappearance.


On the one hand, the artworks of the three artists bring to the fore the innocence of discovering, with genuine curiosity, the inner and outer world, on the other, they let the door open for fiction to set in and build its own version of reality, "enhanced" by 3D modelling or excessive adornment. In between irony and melancholy, the works reflect the artists' concern for the relationship between a false antiquity necessary for embedding in collective mythologies, including those of the artistic act, and the updated references to personal landmarks, describing their attitude in relation to the passing of time and to history. The "mess" the artists create influence the overall vibe, sometimes intimate and familiar, sometimes harsh and abrasive, of a space outlined by drawings, installations, bas-relief, and in-situ interventions.

The positions in which we meet again Michele Bressan, Lea Rasovsky, and Larisa Sitar derive from a core of already existing recent works, but also from new productions, specially made for this exhibition.


* Projects in order of appearence : How Can You Think Of Life Or Death While Standing In A field Of Flowers, God As a Boy, The Impossibility of Counting That Which is Numberless, Everything I Left Behind, surrounded by vrious drawings, Ode To My Left Hand, Nightmare at the Drawing Olympics I, Nightmare at the Drawing Olympics II, Criers.


Ode To My Left Hand
2020, installation, drawing, object, text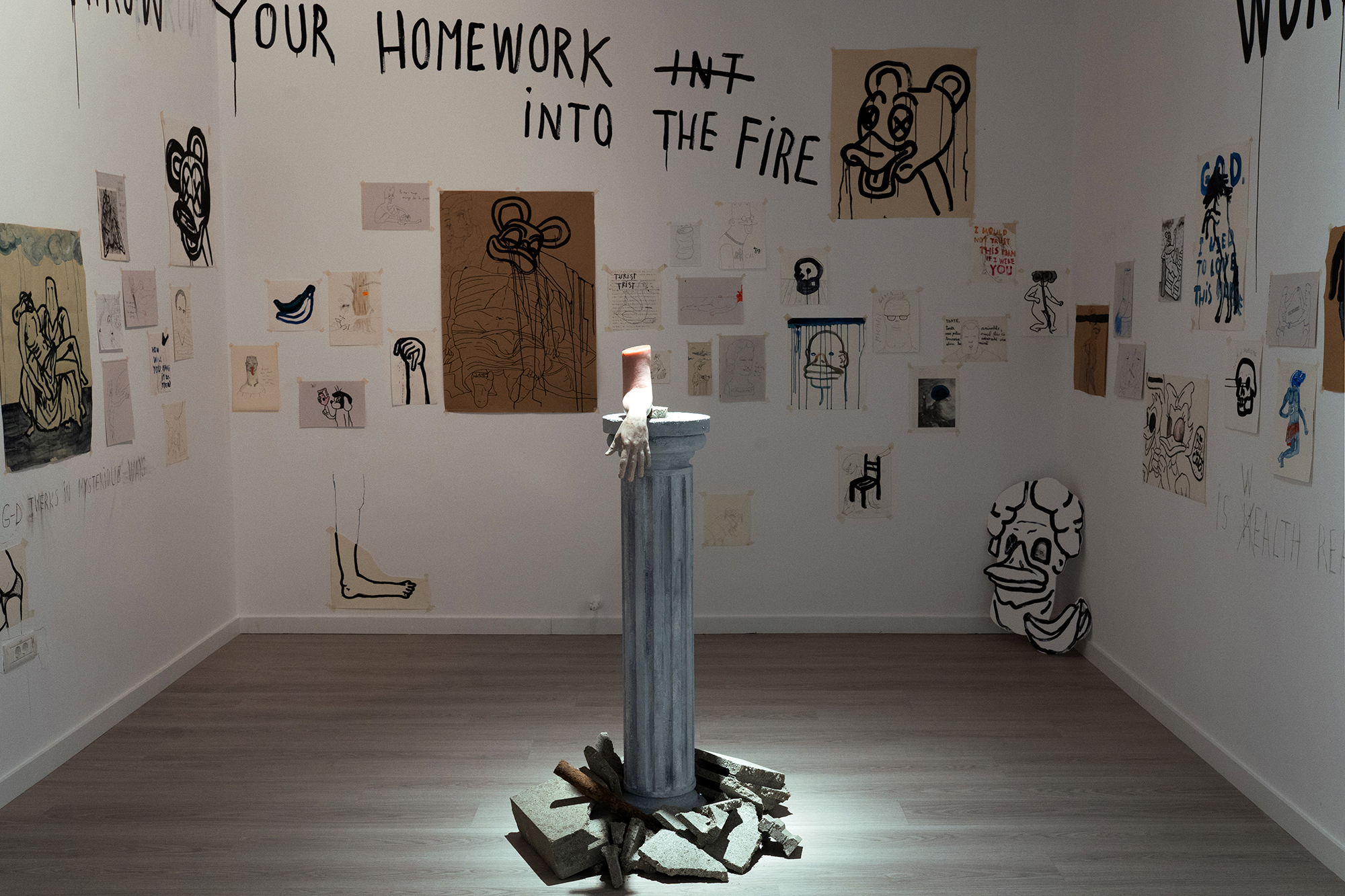 Ode To My Left Hand
(part of BRUIAJ, 2020, Art Encounters Foundation, curator Diana Marincu)


This project is about the impossibility of doing things wrong if staying on a predictable course. Starting with 2016, I switched from my right hand, trained in fine arts, predictable, trustworthy, to my left hand, never used, wild, incapable of doing things the way I always have, a force with a mind of its own. I was looking to sabotage my usual way of doing things and to set free a more savage side that I had no control over. An ongoing series of drawings started to emerge, am ever growing series, that is an undercurrent to my main projects. These drawing represent me at my purest and unknown self.
It is exactly what it is, it roams freely, it is ill-mannered and unapologetic.
Lea Rasovszky

"The Ode to My Left Hand project focuses on the novel directions that can be opened through self-imposed restrictions, creating uncomfortable situations, overcoming challenges with potentially unexpected results. For Lea Rasovszky, this is a way of severing the invisible ties with the habits instilled during her arts education over a long period of time, a way for the artist to forcefully repress that which habit does not allow you to naturally repress, in order to allow the untrained and uncertain hand to surprise you."
Maria Orosan-Telea


Ode To My Left Hand
2019, installation, drawing, object



Violence Is A Girl's Name
curator: Marta Fišerová Cwiklinski


I am not wild,
I am wilderness itself.
I am up high on the highest branch of a leafless tree I am its strange flower, no pollen, just nail polish.
My slender limbs dangle above turquoise waters, I speak blue better than anyone. If i should fall, it would turn into flight.
I am the paradox of spring and of violence.

Lea Rasovszky 2019



6 - 29 November 2019
Klubovna Gallery, Brno, Cz

Ode To My Left Hand
2019, installation, drawing, object



The Lost Art of Not Belonging
(Lea Rasovszky/ Sasha Bandi)
31.05 - 28.06 ,.2019
Matca Art Space, Cluj,-Napoca, România

A leftover shadow is about to leave me. The taste of some cheap wine, and a drain of light from a party I've never been at - these are the surroundings. Sweat has no smell anymore, but it's somehow present, like an old air from old times past. Then I tend to remember that I used to be smiling. Nothing changed since, but everything stopped. Stiff, laying down, I am listening to the same music on loop in an almost fetishistic way. If i have a wound, what keeps me more alive now, is keeping it alive. And it hurts, but well, it's like the most lonesome masturbation, you feel pleasure while you weep without making any sound. So obscene. I can still feel that what I am missing the most is alive. Almost like the pain of a missing limb. It became a lifestyle, anyway. While you are here, you are welcome to taste a little bit of it, but while you stay, please spin that disco ball to make it more pleasant.
This could be an imagined setup for the dialogue established between Lea Rasovszky and Sasha Bandi who question in their works the representation of loneliness. They imagine or interpret what is like to be abandoned, different, rejected or isolated, while still trying to fill the void of loneliness either with bursts of self esteem, or distracting actions. What is relevant and most necessary here is the contrast between isolation and it's almost glamorous way of expressing it, while still being ugly, denied and useless .

Curator: Alexandra Mocan and Matei Toșa